Call us for your survey today
530-577-4815
Some of the different land surveys we provide:
Topographic/Coverage/Site Planning Survey
These types of surveys locate the topographic features – natural and manmade – such as buildings, improvements, fences, trees, streams, contours of the land, etc. This type of survey may be required by a government agency, or may be used by engineers or architects for design of improvements or developments on a site.
A topographic/coverage/site plan will satisfy the requirement for one portion of a Tahoe Regional Planning Agency (TRPA) site assessment submittal.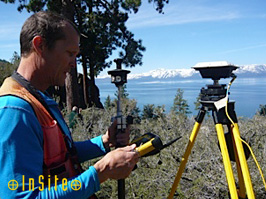 Call us for your survey today!
530-577-4815