Call us for your survey today
530-577-4815
Some of the different land surveys we provide:
Boundary Survey
A boundary survey serves the purpose of locating the corners, boundary lines, and/or easements of a given parcel of land. This involves record and field research, measurements, and computations to establish boundary lines in conformance with the Professional Land Surveyors Act.
The corners of the property will be marked with stakes, pipes, or other such monuments with my Professional Land Surveyor's license number indicated on them (or another surveyor's license number if monuments are found).
A Record of Survey or Corner Record will be filed with the county when these monuments are set, indicating dimensions of property lines, monuments, and other relative data as required by the Professional Land Surveyors Act, the client, or others. This map or record is often required by state law, to protect the general public, if matters addressed by the Land Surveyors Act are encountered while surveying your property. This will cause the mapping costs to increase, and requires the payment of checking and recording fees.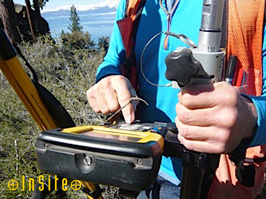 Call us for your survey today!
530-577-4815